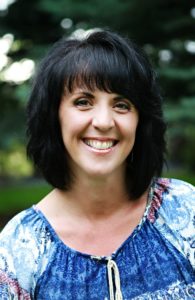 Hi, I'm Jaci. My official bio is below but I think for now I'd like to just chat for a while. It somehow seems more relaxed and comfortable that way. If you're curious about me, I'm 46 years old (sayin' it loud and proud!), a wife of 27 years, and a mom of 7 kids, ages 25 to 17 (plus 3 cute in-laws, Declan, our first grandson, and 2 more grandsons due in August). After 18 years in Rexburg, Idaho, we just moved to Syracuse, Utah. We're excited to see what this new season of life has in store for our family.
If you noticed that my kids were born really close together, please don't think for a minute that means I had my act together. My mothering was pretty chaotic and messy right from the start. Fun and rewarding but definitely messy. How could it be otherwise with a house full of little ones? Some days it's all you can do just to get the dishes done. And maybe put clean clothes on (and sometimes even THAT can be a stretch!).
Anyway, 20+ years of trying to survive in the motherhood trenches has lit a fire within me to help women of all ages connect to the Lord right in the middle of the mess. And I'm not just talking about the mommy messes….I'm talking about the chaos at work, the pressures of college, or whatever else you may be going through. Relying on Christ is truly the only way we not only survive, but thrive in this complicated and crazy world. It's been quite a journey to channel this passion into the written word and right now I'm just trying to hang on and enjoy the ride. Thanks so much for visiting my site. I'd love it if you'd leave a comment if you feel so inclined. It really means a lot to me that you stopped by for a visit….even if it was just online!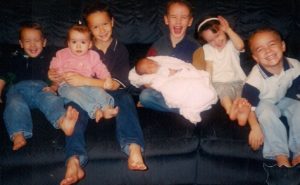 This was taken right after our youngest was born.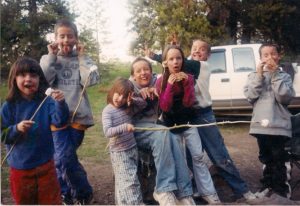 I think this one shows exactly what raising kids is like. 🙂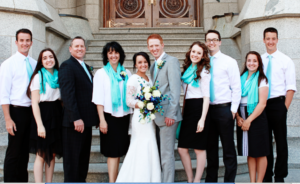 I'm not sure how it happened, but they grew up. This is my daughter Shay's wedding in April 2015. We're only missing one missionary son who was in Africa (that son is now actually home and married himself! I really need to get a new family picture!!).
Official bio: Jaci Green Wightman (pronounced JAY-see) was raised in five different states before meeting her husband, Greg, during her freshman year of college. Together, they've enjoyed the daunting task of raising seven children born in just eight years. In 2012, Jaci finally graduated from BYU-Idaho with a degree in University Studies, 21 years after postponing her schooling to start a family. Underneath all her outward busyness, however, Jaci is simply an ordinary woman who discovered an extraordinary Savior. Her greatest joy lies in teaching and testifying of the One who not only changed her heart, but radically transformed her entire life.