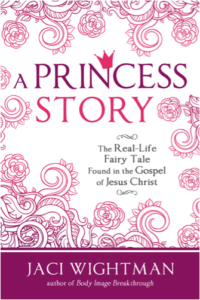 This isn't just a book for Young Women! Here's some feedback from women of all ages (even a few grandmas!):
"Jaci has a gentle, yet compelling, way of pushing you out of your comfort zone and into a wonderful place of enlightenment and growth. Every woman, young or old, needs to understand the concepts presented in this book. You could read it just for enlightenment, and to see things in a way you have never seen them before, or you can use it to discover where you are in your personal journey….It will not only help you understand who you truly are, but also recognize the lies that hold you captive. As you journal about what you are learning, and feeling, the personal messages God has for you will be amazing." -Wendy W.
"This amazing book will guide you in turning your "dragon nature" into divine nature. And more, it will leave you with an overwhelming desire to strengthen your relationship with The Prince who is devoted to rescuing you. I wish I had read this book as a teenager, but its message is for all ages, and I'm eager to read it again. And again." -Julie S.
"I have never read a book that has had such an impact on my life! Although it was written for women, I told my husband he needs to read it….If you are like me and have struggled with putting off the natural man and becoming Christlike, then you need to read this book. You will see your Savior in a whole new light!"-Sarah M.
"Jaci's knowledge of the scriptures and the way we can apply them personally in our everyday lives is refreshing, and her enthusiasm about living the gospel is contagious! Every time I opened this book, I had a surge of joy and hope that becoming one with my Savior can be a reality. Besides young women, adults can benefit greatly from her easy-to-understand insights….A wonderful, empowering book!"-Wendi B.
OVERVIEW OF A PRINCESS STORY:
Princess stories abound in today's media-driven culture. If Disney's success is any indication, our appetite for all-things-princess has truly become insatiable. Ever wonder why that is? Could there be something significant about these princess stories that goes beyond the realm of entertainment? I certainly believe that's true. In fact, I believe we're drawn to these stories because they speak to something buried deep within us—the longing to actually step into the shoes of a princess. Just imagine having your own adventure filled with drama, magic, and enough danger to keep things interesting. Add a prince to the mix and it would rival any chick flick on the market.
But what if the truth is that you're already in a princess story—and you're the one playing the starring role? In this book, I'll show you how the gospel of Jesus Christ contains its own real-life fairy tale that includes not just a princess and her prince, but an evil villain, an awful monster, an epic battle, and a daring rescue. Though it's written with young women in mind, the story truly speaks to women of all ages, reminding us of who we really are and who we're meant to become. Perhaps it's time we stop living vicariously through the lives of those animated princesses and step into our own bold, exhilarating adventure.